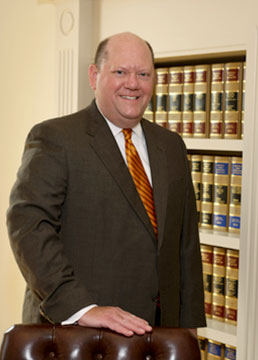 Steven C. Sasser
This email address is being protected from spambots. You need JavaScript enabled to view it.
Education:
Auburn University, B.S., 1985
University of Alabama, J.D., 1988
Admitted to Bar:
Biography
Steven C. Sasser, a member of Blackburn, Maloney and Schuppert, provides legal services primarily in the areas of adoption law, bankruptcy and creditor's rights, business formation and governance, commercial transactions, collections, corporate law and civil litigation. He also focuses on landlord-tenant issues and representation of nonprofit companies and organizations and individuals across North Alabama. He is also a frequent speaker at Continuing Legal Education programs and industry events and serves as a faculty member for Business 101 Program offered by the Decatur-Morgan County Entrepreneurial Center.
Mr. Sasser's clients have included national, regional and local financial institutions and lenders, as well as national and international corporations.
Community & Civic Involvement

Decatur-Morgan County Chamber of Commerce

Executive Committee Member, 2005-2008
Board of Directors Member, 2004-2008 and 2014 – present.
Vice Chairman for Community Planning and Quality of Life, 2007-2008
Vice Chairman for Public Policy and Advocacy, 2005-2007

Decatur Jaycees

Vice President, 1993-1994
Executive Board Member, 1993-1995

Kiwanis Club of Decatur

Director, 2003-2010
2nd Vice President, 2010-2011
1st Vice President, 2011, 2012 – 2013
President, 2013 - 2014

United Way of Morgan County

Treasurer, 1996-1997
Director, 1992-1997

Boy Scouts of America

Council Executive Board, Greater Alabama Council
Advisory Board, Greater Alabama Council
Past District Chairman, Finance Chairman and Friends of Scouting Chairman, Arrowhead District, Greater Alabama Council

Hospice of the Valley

Vice President, 2009
Human Resources Committee, Member, 2008
Programs and Services Committee, Member, 2009-2013
Director, 2008 - 2013

Professional Associations & Journals

Member, Alabama State Bar Association
Member, American Bar Association
Past Treasurer, Morgan County Bar Association
Senior Editor, Alabama Law Review, 1987-1988
Member, Solo and Small Firm Practitioners Committee, Alabama State Bar Association, 2003-2005
Member, Solo and Small Firm Task Force, Alabama State Bar, 2014
Board Member and Secretary, Solo and Small Firm Section, Alabama State Bar Association, 2015 - present
Seminar Presentation: "Aligning Your Practice with the Bankruptcy Abuse Prevention and Consumer Protection Act of 2005," presented by National Business Institute, November 22, 2005
Seminar Presentation: "A Discussion on Evictions," presented to the Alabama Council for Rural and Affordable Housing Annual Meeting, May 27, 2005
Seminar Presentation: "Hot Button Issues in Unlawful Detainers," presented to the Alabama Council for Rural and Affordable Housing Annual Meeting, May 22, 2009
Seminar Presentation: "The Amended Residential Landlord Tenant Act and Other Hot Button Eviction Issues," presented to the Alabama Council for Rural and Affordable Housing Annual Meeting, May 26, 2010
Seminar Presentation: "Bankruptcy Law and Litigation - Protecting the Creditor's Position," presented by National Business Institute, July 27, 2010.
Panel Discussion: "Solos and Small Firms in Transition" presented to the 2015 Alabama Bar Association Annual Meeting.
Seminar Presentation: "Update of Unlawful Detainers" presented to the 2015 Alabama Council for Rural and Affordable Housing Annual Meeting.
Mr. Sasser is also a frequent speaker at Continuing Education Seminars, Business Development Workshops and Industry meetings.

Other Civic Organizations

Charter Board Member and General Council, Helping Adolescents Needing Direction and Supervision (HANDS)
Past Advisory Board Member, Helping Adolescents Needing Direction and Supervision (HANDS)
PCA (Deacon), Decatur Presbyterian Church
Board Member, past President and General Counsel, Decatur-Morgan County Entrepreneurial Center