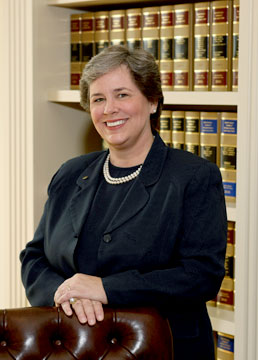 Gay Blackburn Maloney
This email address is being protected from spambots. You need JavaScript enabled to view it.
Education:
Agnes Scott College, B.A., cum laude, 1976
Vanderbilt University, J.D., 1979
Admitted to Bar:
Alabama, 1980
Illinois, 1981
Biography
Gay Blackburn Maloney, a member of Blackburn Maloney and Schuppert, provides legal services focused primarily in the areas of estate planning, probate and estate administration, and business law. Her clients include individuals, family-owned businesses, charitable foundations, and tax-exempt organizations.
As part of her estate planning, probate, and estate administration practice, Mrs. Maloney assists families and individuals in planning for their current needs and future goals. Her individualized approach to estate planning takes into consideration tax laws and the unique objectives of each client, including the establishment of special needs trusts for families with children or adults with disabilities. Mrs. Maloney also provides legal services to family-owned businesses, providing guidance for their current legal needs and assisting families in planning for the succession of business ownership through multiple generations.
Community & Civic Involvement

Rotary International

First Lady of Rotary International, 2019-2020, as partner of Mark Daniel Maloney, President, Rotary International, 2019-2020
Conference Co-Chair, District 6860, Rotary International, 2005
Assistant Governor, District 6860, Rotary International, 1998-1999
President, Rotary Club of Decatur Daybreak, 1997-1998
Speaker for International Training Meetings

Junior League of Morgan County, Inc.

President, Junior League of Morgan County, 1989-1990

United Way of Morgan County

President, United Way of Morgan County, 1998
Member and Allocations Chair, Women's Leadership Council, United Way of Morgan County, 2014 to present

Agnes Scott College

Trustee, Agnes Scott College, 1990-1996
President, Agnes Scott College Alumnae Association, 1990-1992

Chairman, Board of Trustees, Parkway Medical Center, 2002-2004
Charter Member, Associate Board, First American Bank, 1981

Professional Associations & Journals

Fellow, American College of Trust and Estate Counsel (ACTEC), 2016
Member, Alabama State Bar Association
President, Morgan County Bar Association, 2014-2015
Member, Committee on Nonprofit Corporations, Alabama Law Institute, 2007-Present
President and first woman as head of Vanderbilt University Bar Association (Student Government), 1978-1979
Lecturer for Continuing Legal Education Seminars and Business Development Workshops

Awards & Honors

Phi Beta Kappa
Outstanding Professional Award, Women of Distinction Program, Girl Scouts of North Alabama, Inc., 1996
Ira Lay Award, United Way of Morgan County, 1999
Four Avenues of Service Award, Rotary Club of Decatur Daybreak, 2003
Athena Leadership Award, Decatur-Morgan County Chamber of Commerce, 2012
Girlfriend of the Gala Award, Women's Leadership Council, United Way of Morgan County, 2013
Four Avenues of Service Award, Rotary Club of Decatur Daybreak, 2003
Outstanding Alumna, Service to the Community, Agnes Scott College Alumni Association, 2019

Other Civic Organizations

Coordinator, Harvard College - Alternative Spring Break, Decatur, Alabama, 2002-Present
Past Director, Friends of Delano Park and Delano Park Conservancy, 2013
Director, Albany Neighborhood Association, 2002-2012
Co-Lord Mayor, Albany Neighborhood Association, 2008-2009
Member, Board of Directors, Junior Achievement of Morgan County
Chairman, Board of Trustees, First United Methodist Church of Decatur, 2002-2004
Member, Board of Trustees, Decatur District of the North Alabama Conference, United Methodist Church, 1995-2006
President, Parents' Organization, St. Bernard Preparatory School, 2001-2002
Former Albany Chairman, Historic Decatur Christmas Tour
Speaker at Continuing Education Programs for CPAs and Attorneys - Examples: Wheeler Basin CPAs, February 9, 2011 "Tax Relief Act of 2010" NBI CLE Program: "Proper and Prudent Treatment of Assets, Tax Planning and Consequences of Probate as Part of Probate Process from A to Z."
Director, Junior Achievement
Historic Preservation Committee, City of Decatur, 2015-present
Troop Leader, Girl Scouts of North Alabama