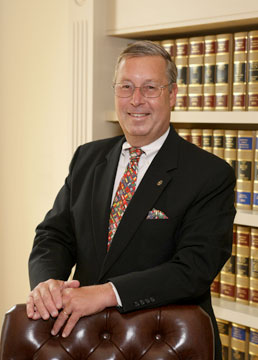 Kenneth M. Schuppert, Jr.
This email address is being protected from spambots. You need JavaScript enabled to view it.
Education:
University of the South, B.A. in economics and mathematics, 1977
Cumberland School of Law of Samford University, J.D., 1981
Admitted to Bar:
Biography
Kenneth M. Schuppert, Jr., a member of Blackburn, Maloney and Schuppert, principally practices in the areas of business and corporate law, real estate, probate, and litigation. Mr. Schuppert works with small to large businesses, providing personal and business planning and counseling. He also provides guidance with tax and succession planning and financial and asset management. Mr. Schuppert is an Alabama licensed mediator.
Mr. Schuppert's practice has included the organization and representation of numerous profit and nonprofit corporations, partnerships, and sole proprietorships. His background in economics, mathematics, and tax matters contributes to his unique ability to understand and represent such entities and individuals in connection with their specific business, financial, and legal issues and needs, providing the client with individualized access to needed legal representation.
Community & Civic Involvement

Rotary International / The Rotary Foundation

President, Rotary Club of Decatur, 1992-1993
District 6860 Governor, Rotary International, 1996-1997
International Training Leader, 2001 and 2003
International Council on Legislation Representative, 2001, 2004, 2007, 2010, 2013 and 2016
Regional Membership Coordinator, Rotary International, 2003-2005
Major Gifts Advisor for Zone 30, The Rotary Foundation, 2005-2006
Regional Coordinator for Zone 30, The Rotary Foundation, 2006-2009
Director of Rotary International, 2011-2013
Vice President of Rotary International, 2012-2013
Aide to Rotary International President, Gary Huang 2014-2015
Moderator of Rotary International Assembly, 2016
Trustee of The Rotary Foundation, 2016-2020, and Vice Chair 2016-2018, 2019-2020
Chairman, 112th Rotary International Convention, Taipei, Taiwan 2021

Decatur-Morgan County Chamber of Commerce

Director, 1988-1989
Commodore, 1986-1987

Decatur Jaycees

President, 1987-1988
Associate Legal Advisor for Alabama Jaycees, 1988-1989

Old Decatur Historic Association

President, 1985
Director, 1986-1992

Greater Alabama Council of the Boy Scouts of America

Vice President, 1994-2002
Board Member on Board of Directors, 1990-2002
District Chairman, Arrowhead District, 1985-1989
Council Friends of Scouting Chair, 1998

Clerkship

Law Clerk to Judge Daniel H. Thomas, United States District Court for the Southern District of Alabama, 1981-1982

Professional Associations & Journals

Member, Alabama State Bar Association
Member, Bench and Bar Relations Task Force, Alabama State Bar Association, 1990-2002
Member, American Bar Association
Member, Morgan County Bar Association
President, Young Lawyers Section, Morgan County Bar Association, 1986
Secretary/Treasurer, Morgan County Bar Association, 1983
Writing Editor, The American Journal of Trial Advocacy, 1980-1981
Lecturer for Continuing Legal Education Programs on Real Estate

Awards & Honors

Distinguished Service Award, The Rotary Foundation, 2006
Citation for Meritorious Service, The Rotary Foundation, 2001
Four Avenues of Service Citation, Rotary International, 2001
Silver Beaver Award, Boy Scouts of America, 1990
Named One of Ten Outstanding Young Alabamians, Alabama Jaycees, 1989
DSA Outstanding Young Man Award, Decatur Jaycees, 1988
Named an Outstanding Young Man of America, Outstanding Young Americans, 1988
Eagle Scout Award, Boy Scouts of America, 1968

Other Civic Organizations

Director, Community Board of BBVA Compass Bank, Decatur, Alabama, 2018-Present
Director, Parkway Medical Center Board 2007-2012
Director, Decatur Morgan Hospital Board 2012-Present
Director, Princess Theatre Board, 1999-2009
Director, Carnegie Visual Arts Center, 2006-2018
Director, PACT (Parents and Children Together), 1989-1999
Director, Decatur Area Revitalization Effort, 1986-1990
Director, Morgan County Cancer Society, 1989-1995
Lay Eucharistic Minister, St. John's Episcopal Church, 1990-2002, 2005-2008 and 2016-2019
Chancellor, St. John's Episcopal Church, 2005-Present
Treasurer, St. John's Episcopal Church, 1996-2005
Parish Vestry (Senior Warden, 1995), St. John's Episcopal Church, 1993-1995