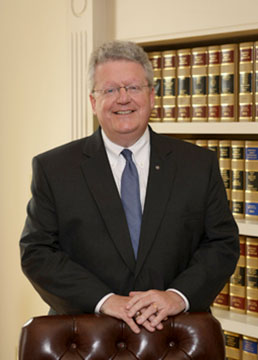 Mark Daniel Maloney
This email address is being protected from spambots. You need JavaScript enabled to view it.
Education:
Harvard College, A.B., cum laude, 1976
Vanderbilt University, J.D., 1979
New York University, LL.M., in Taxation, 1980
Admitted to Bar:
Alabama, 1979
Illinois, 1980
Biography
Mark Daniel Maloney, a member of Blackburn, Maloney and Schuppert, focuses primarily in the areas of agricultural law, taxation, and estate planning. Mr. Maloney provides taxation and estate planning services to a wide array of businesses and individual clients.
A significant portion of Mr. Maloney's practice is devoted to agricultural law, in which he advises farmers, landowners, and related agricultural businesses. The agricultural legal services he provides includes advising for federal farm program matters, income and estate taxation, and liability issues, as well as estate planning for farmers and large landowners. Mr. Maloney brings a unique perspective to his agriculture law practice, having grown up on a farm in Illinois.
As part of his agricultural law services, Mr. Maloney regularly designs business structures for farming operations and prepares farm operating plans for filing with the Farm Service Agency of the U.S. Department of Agriculture. He also represents farmers and farming operations in administrative hearings before the Farm Service Agency and the National Appeals Division of the U.S. Department of Agriculture.
Community & Civic Involvement

Rotary International / The Rotary Foundation

President, Rotary International, 2019-2020
Director, Rotary International, 1999-2001
Trustee, The Rotary Foundation of Rotary International, 2004-2008
Vice-Chairman, The Rotary Foundation of Rotary International, 2006-2007, 2007-2008
Chairman, 105th Rotary International Convention, Sydney, Australia, 2014
Aide to the President of Rotary International, 2003-2004
Governor, Rotary International District 686, 1989-1990
President, Rotary Club of Decatur, 1985-1986

Decatur-Morgan County Chamber of Commerce
United Way of Morgan County
Knights of Columbus

Grand Knight, St. Ann's Council, 1983-1984

Professional Associations & Journals

President, Morgan County Bar Association, 2012-2013
Member, Morgan County Bar Association
Member, Alabama State Bar Association
Member, Section of Taxation, American Bar Association
Chairman, Committee on Agriculture, Section of Taxation, American Bar Association, 1992-1994
Member, American Agricultural Law Association
Member, Alabama Law Institute
Member, Business Entities Committee, Alabama Law Institute, 1999-2008
Member, Limited Partnership Committee, Alabama Law Institute, 1997-1998
Member, Limited Liability Company Committee, Alabama Law Institute, 1992-1994
Examiner in Taxation, Alabama Board of Bar Examiners, 1985-1988
Administrative Editor, Vanderbilt Law Review, 1978-1979
"Estate Planning for Farmers: The Impact of the Federal Farm Program Payment Limitation Rules," Estate Planning, January 1998

Awards & Honors

Albert P. Brewer Award for Distinguished Public Service, Morgan County Bar Association, 2016
Emmett McClary Four-Way Test Award, Rotary Club of Decatur, 2014-15
R.W. "Pete" Henderson Membership Award, Rotary Club of Decatur, 2011-12
The Rotary Foundation Distinguished Service Award, 2002
The Rotary Foundation Citation for Meritorious Service, 1994
Namesake for the Mark D. Maloney Rotary Scholarship awarded annually to a senior at Austin High School, Decatur, Alabama, by the Rotary Club of Decatur

Other Civic Organizations

President, The Decatur Foundation, 1981-1991
Chairman, Morgan County Meals on Wheels
Director, Old Bank Museum
Member and Chairman, Finance Council, Annunciation of the Lord Catholic Church, 2003-2015
Member and Chairman, St. Ann Catholic School Board, 1982-1996, 2010-2012
Director, St. Ann's Educational Foundation, 1981-1986
Member, Board of Education, Catholic Diocese of Birmingham, 1991-1992
Master of Ceremonies, Popcorn Day Festival, Ridgway, Illinois, 1981-Present