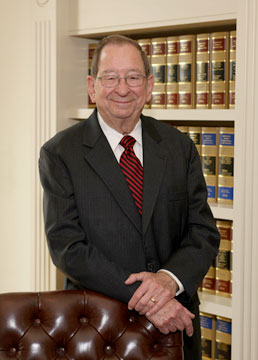 J. Gilmer Blackburn
(1927-2009)
Education:
Auburn University, B.S., 1950
University of Alabama, LL.B., 1954
New York University, LL.M., in Taxation, 1956
Admitted to Bar:
Biography
J. Gilmer Blackburn was the founding attorney and senior counsel of Blackburn, Maloney and Schuppert. During his active practice, Mr. Blackburn represented a wide group of clients including banks, insurance companies, large and small corporations, family businesses, government agencies, nonprofit organizations, and foundations, many of which are still clients of the firm.
An early tax attorney, Mr. Blackburn was instrumental in establishing the representation by attorneys of clients in federal and state tax law matters. As such, Mr. Blackburn was a leading expert in the area of taxation law, serving as chairman of the Section of Taxation for the Alabama State Bar Association and helping organize a tax seminar primarily for attorneys. Additionally, Mr. Blackburn was a lecturer for the University of Alabama Law School Continuing Legal Education Program, participating in numerous tax seminars.
In addition to being a respected leader in the legal community, Mr. Blackburn was Mayor of Decatur from 1962 to 1968. During his term as mayor, he participated in a major development program for Decatur called "Operation New Decatur." The program, which helped define the Decatur of today, included the construction of a new city hall, the revitalization of the downtown area, the establishment of new parks and recreation centers, and the implementation of a new master plan for the City. He was also instrumental in conceiving and developing Point Mallard Park, a regional recreation park of the City of Decatur centered upon the first wave-activated swimming pool in the United States.
Mr. Blackburn was an active supporter of his alma mater, Auburn University, having served as president of the Auburn University Alumni Association and as a charter member of the Auburn University Foundation. He served as the Foundation's president and chairman and was named an emeritus member of its board of directors.
Community & Civic Involvement

Auburn University Alumni Association

President, 1967-1969
Past President, Morgan County Auburn Club

Auburn University Foundation

Board Member, 1960-2001
President, 1987-1993
Charter Organizer in 1960

Kiwanis Club of Decatur

Member, 1956-2009
President, 1965

Professional Associations & Journals

Member, Alabama State Bar Association
Member, Morgan County Bar Association
Former President, Morgan County Bar Association
Member of Board of Directors, Alabama Federal Tax Clinic
Received One of Five Kennison Fellowships to New York University Tax Program
University of Alabama Law Review
Charter Member, Farrah Law Society, University of Alabama, 1969
Chairman, Review Committee State of Alabama Higher Education

Awards & Honors

Recognized by the Best Lawyers in America
Barrett Shelton Freedom Award, Spirit of America Festival, 1999
Community Paul Harris Fellow, Rotary Club of Decatur, 1992
The Brotherhood Award, Conference of Christians and Jews, 1982
Award of Merit, American Park and Recreation Society, 1971
Layman's Award, Alabama Park and Recreation Society, 1970
Outstanding Young Man of the Year, City of Decatur, 1962
Author and Publisher First Place Award at the University of Alabama, American Society of Composers, 1954

Other Civic Organizations

Member and Chairman of Board of Stewards, First United Methodist Church
Former Member of the Decatur/Morgan County Board of Directors, Compass Bank